BUSINESS MISSION WITH THE PRESIDENT OF THE CZECH REPUBLIC TO THE PRC II.

Pars Komponenty regularly meet the agenda of foreign visits to destinations that are new and remote for the company. The company's goal is to build supply chain relationships on a long-term basis and to visit some destinations multiple times without pressure on potential business.
This policy is applied by the company management also in China. For the second time, Mr. Ladislav Mazanec, Managing Director of Pars Komponenty, took part in a business mission of Czech entrepreneurs to China with the participation and support of the Czech President, Mr. Miloš Zeman.
The mission agenda has been linked to maintaining existing contacts in China with as many personal meetings in B2B forums as possible, along with a personal meeting with a potential partner at its parent site. The company has long been considering purchasing materials and selling components in China. The biggest challenge will be learning with local needs when selling Pars Komponenty products and maintaining the required level of quality of purchasing materials from China.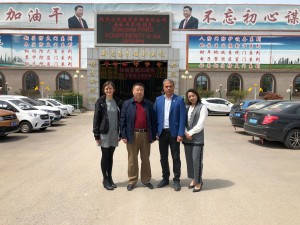 China is a long-term, problematic challenge in terms of entry barriers and Pars Komponenty continue their policy of S-T-O-P (Stop-Think-Observe-Plan)
Big thanks go to the office of the President of the Czech Republic and the Chamber of Commerce of the Czech Republic for support and organization. The same thanks to the Ministry of Industry and Trade, the Ministry of Foreign Affairs, the Czech Embassy, ​​CzechTrade and CzechInvest.
Team Pars Komponenty s.r.o.