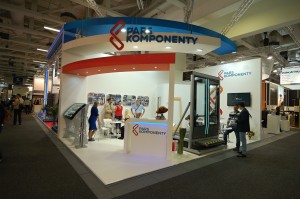 30.9.2016, Studénka, CZ:
Pars Komponenty announced the results of its latest development to the professionals. The World premiere of the new sliding-plug mechanism, heated movable door step and fully composite door leaf was happened in late September at the prestigious exhibition InnoTrans 2016, which takes place every two years in Berlin.
Huge interest of visitors has been attracted by the technical parameters of the products and traditionally high-quality craftsmanship. Customers has been interested especially in extremely lightweight and compact sliding-plug mechanism, that is, thanks to its modular concept, usable for a wide range of rolling stock projects, both new and also their modernization.
The second attraction has become heated moveable step, which amazed visitors of the fair by its exposed width and particularly the exposed length. The visitors also deserved its new adaptive suspension system and a large number of security features integrated directly into the step.
The company Pars Komponenty also presented its ultralight door leaf. The fully composite prototype reinforced by carbon fibers, is the result of a joint development with the University of West Bohemia and other Czech manufacturers.
The great interest of visitors clearly demonstrated the success of our exhibition. In addition to our traditional customers such as Skoda Transportation and Bombardier, there were representatives of the largest manufacturers of rolling stock, such as Alstom, Siemens, CAF and Stadler and Pesa interested in our new products.
The company Pars Komponenty developed a comprehensive product range of components suitable for door systems solutions that meet the most demanding requirements of manufacturers of rail vehicles. The company's products are suitable both for a new vehicle projects and also for their modernization. For a range from trams, metro and suburban units to the regional and intercity trains.