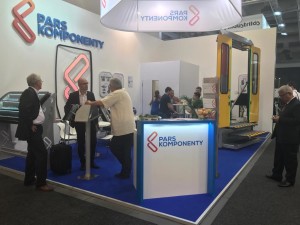 Pars Komponenty s.r.o. took part in the largest rail trade fair in Europe, InnoTrans 2018 in Berlin. The main task of the business and technical team was the presentation and implementation of existing and above all new products, namely a retractable door system for trains up to 160 km/h, a semi – automatic platform for people with reduced mobility and a 3D windscreen frame.
The PK team has welcomed the professional public, leaders in the field (SIEMENS, STADLER, CAF, ŠKODA TRANSPORTATION, ICF, TRANSMASHHOLDING and others), long-time customers and suppliers, as well as many new customers with a single common interest and increasing safety and comfort travel by public transport around the world. Throughout the fair, Pars Komponenty booth was visited by more than 200 visitors, and more than 100 specific meetings took place on the booth.
The feeling of the whole exhibition is very positive, with a rapid increase in demand for existing or new projects around the world. PK is currently preparing to unify a complete portfolio to serve as many customers as possible.
The PK team is not hesitate and is already preparing for the TRAKO 2019 exhibition, in Gdaňsk, Poland, with a unified product portfolio that is being developed with the help of the complete development and design team of Pars Komponenty, along with a high level of technology and technical equipment at the Pars Komponenty plant in Studénka.
Team Pars Komponenty s.r.o.