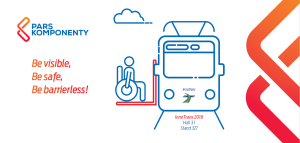 Dear readers, visitors,
Company Pars Komponenty has undergone in the last stage of extensive development and testing of new designs and business focus on foreign markets and are now enjoying the feedback that comes from new customers. Therefore, to be able to continue to expand and compete in the global market of public transport should be the main aim mainly to develop new and improve existing products, hand in hand with the requirements lightly, and security components.
At the InnoTrans 2018 will Pars Komponenty exhibiting for the first time a comprehensive solution of the entrance door to the train along with a semi-automatic platform for people with reduced mobility.
Representatives of the company from the department of business, design and development and company management will stand for the entire exhibition. The reason for high staffing is the interest in all customer suggestions and flexible dealing directly with the products.
We will be honored with the visit of each of the visitors at the InnoTrans 2018. You will find us in stand 327 in Hall 3.1.
Team Pars Komponenty