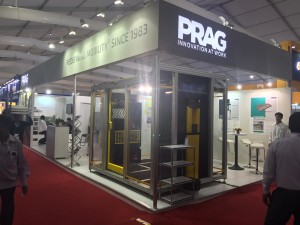 IREE 2019 (4/4)
This year the last exhibition we participated in, the exhibition IREE 2019, in New Delhi. Pars Komponenty is approved supplier for the TRAIN 18 project, but we can offer more to the market, so we decided to jointly present with an Indian partner and present the CUBE concept with four sides, two mock-ups of automatic doors for trains and metro (supplied by Pars Komponenty) watercooler and HVAC (supplied by the PRAG Group), which have attracted the attention of existing and new customers and offered new opportunities for market development on a strategic basis with a possible relocation of production.
At IREE 2019, you need to switch to the Asian approach to attract new customers and potential projects. While Europe is drinking coffee and discussing, in India you are often ferocious, and as a new and European company, you have to be able to push through and be the best. You don't have a second chance.
We thank our customers and partner, PRAG Group for their support and cooperation.
Team PK