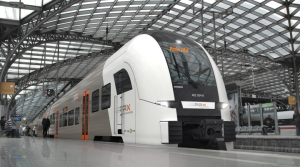 30.6.2016, Studénka, CZ: Company Pars Komponenty has been chosen by SIEMENS AG as a supplier of components for RRX Project. This reference contract is an important milestone for Pars Komponenty and the start of the long-term co-operation with the global leader within the rolling stock market. Continual deliveries to the production facilities in Krefeld and Vienna are scheduled up to the year 2020.
Pars Komponenty won thanks its flexibility. The first delivery is planned for September this year. The contract includes not only production of components but design of the new aluminum profiles as well.
Siemens has finalized a contract worth €1.7 billion for 82 double-deck Desiro units for the Rhine-Ruhr Express (RRX) last year, described by Siemens as the largest regional rail transport order the company has ever won. The contract includes the supply of the electric multiple units (EMU) and a 32-year maintenance agreement.